Earnings season continues
It was another busy week for 2CHYP with many of the companies in the portfolio reporting 2nd quarter results.  With each report we analyze the impact on near term and long term fundamentals and contrast it with both the absolute market price and the market response to the report.  Of particular note were the following:
Gladstone Commercial (GOOD) had a strong quarter with leasing activity that will allow them to get back into growth mode.  The market seemed to be scared by this news, likely in anticipation of equity issuance which David Gladstone strongly indicated.  However, the math suggests such issuance would be accretive given the spread between GOOD's cost of capital and acquisition cap rates.  We bought GOOD on the price drop with the idea that it is a large and sustainable dividend with a bit of growth potential as well.
UMH Properties (UMH) hit its internal guidance in 2Q17, but it was a far stronger report than a mere hit as it served as a confirmation of the plausibility of a rather aggressive growth strategy that management laid out.  As long as the economy holds up, we think UMH can grow at a double digit CAGR for the next 5 years through addition of rental units.
The 2Q report of Gramercy Properties (GPT) was not well received as they missed and reduced 2017 guidance.  It seems to be the result of a timing issue in which planned dispositions occurred early and acquisitions were delayed.  Thus, there was a gap in cashflows while excess cash was held.  We anticipate this will correct over time as the acquisitions come in and we like the transition to a more industrial heavy portfolio rather than office.
CorEnergy's (CORR) report was quite disappointing in my opinion.  In addition to no visible progress on finding an acquisition, the MoGas leasing efforts fell flat.  Sometimes it is better to be lucky than good and in this case, we were fortunate to be able to get out of CORR before the market noticed the weakness.  While I do attribute the save partially to luck, there are certain risk mitigation practices that increase our chances of getting lucky.  We are ever-present at our desks so we see news releases as they hit and we are sufficiently familiar with our stocks that we know what to look for beyond headlines.  This allowed us to skip right past the headline FFO number which came in above expectations to spot the property level weakness.
CBL & Associates (CBL) reported tepid fundamentals, but when trading at a sub 5X FFO multiple, tepid is pretty good.  It closed up about 4% today following the conference call in which Stephen Lebovitz vehemently defended the stability of the company's properties and the strength of their balance sheet.  We continue to see weakness in malls, but in our opinion, the market is pricing in much worse.
What is going on with Uniti?  It had a terrible week down just about every day and in some cases substantially.  Well, most of the damage seems to have been caused by Windstream's dividend elimination which sent WIN down over 30%.  Since Windstream is a major tenant of Uniti, there is some concern over the long term stability of their lease payments.  However, I would point out that Windstream eliminating their dividend preserves capital for said lease payments.  The concern would be that the dividend cut was the result of underlying fundamental weakness.  A superficial evaluation suggests they will have no difficulty in paying the Uniti lease, but we will continue to dig further into this issue to get better clarification.
With so much information pouring in, I would like to reiterate a portion of the 2CHYP service which is that subscribers may reach out with questions on portfolio holdings.  While I explicitly do not give advice, I would be happy to share my analysis and opinions.  Good ways to reach out are via comments below or just send me an email at dbowler@2ndmarketcapital.com.
Commentary may contain forward looking statements which are by definition uncertain.  We retain no obligation to update or correct forward looking statements should the available information change.  Actual results may differ materially from our forecasts or estimations.
2CHYP Portfolio Snap Shot
8/3/17 2CHYP Performance since inception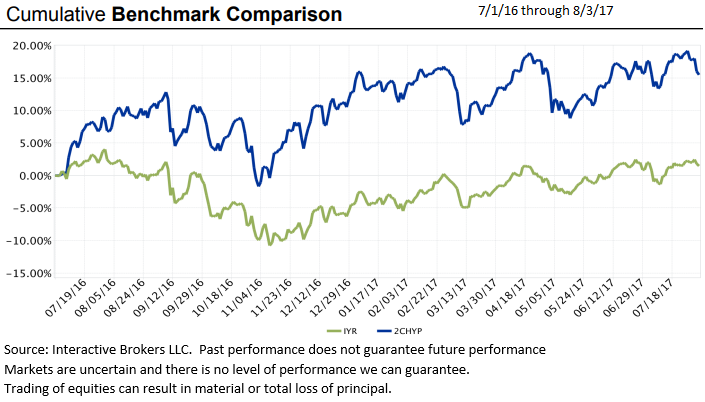 2CHYP Weekly Trade Confirmation Report